It is believed that Greece was first to introduce democracy. Most Athenians (Greek) were in impression that women had strong emotions and weak minds. Therefore, woman had to live under (kyrios) guardians whether father or else adult male as guardian. She was not allowed to enter into any contract and own property, guardians controlled everything otherwise she was allowed own jewelry; personal slaves and enjoy religious ceremonies which banned for men. Wifes responsibility was to bear children and manage house. She was not allowed to move out of house except for funeral and religious ceremonies where men were not permitted. Women were not even permitted to go out with her husband as women seen outside were as prostitutes, or poor women slaves. Even women were behind curtains if any guest of husband arrived. Men were allowed to keep non-wives and get entertained by courtesans (high class prostitutes). Wife at home and served house knows as decent and credited to the parents who gave birth and nourished.
BOOKS:
Women in Ancient Greece:
This book, a comprehensive history of women in the Archaic and Classical Ages, completes our picture of ancient Greek society. Largely excluded from any public role, the women of ancient Greece nonetheless appear in various guises in the art and writing of the period, and in legal documents. These representations, in Sue Blundell's analysis, reveal a great deal about women's day-to-day experience as well as their legal and economic position--and how they were regarded by men. Here are women as portrayed in Homer, in Greek lyric poetry, and by the playwrights; the female nature as depicted in medical writings and by Aristotle; representations of women in sculpture and vase paintings. This is evidence filtered through a male view: Sappho is the only female writer of antiquity much of whose work survives. Yet these sources and others such as regulations and law court speeches reveal a great deal about women's lives and about their status as defined by law and by custom. By examining the roles that men assigned to women, the ideals they constructed for them, and the anxieties they expressed about them, Blundell sheds light on the cultural dynamics of a male-dominated society. Lively and richly illustrated, her work offers a fresh look at women in the ancient world.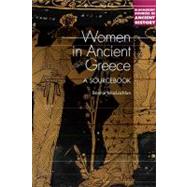 Women in the Greek and Roman Worlds: A Sourcebook: The study of women in the ancient Mediterranean world is a topic of growing interest among classicists and ancient historians, and also students of history, sociology and women's studies. This volume is an essential resource supplying a compilation of source material in translation, with suggestions for further reading, a general bibliography, and an index of ancient authors and works. Texts come from literary, rhetorical, philosophical and legal sources, as well as papyri and inscriptions, and each text will be placed into the cultural mosaic to which it belongs. Ranging geographically from the Greek mainland and the communities along the eastern shores of the Mediterranean, to Egypt and the Greek West (modern day southern Italy and Sicily), the volume follows a clear chronological structure. Beginning in the eighth century BCE the coverage continues through Archaic and Classical Athens concluding with the Hellenistic era.