Hinduism I feel is one of the oldest ancient religion combinations of old Dravidian and Aryan civilization. The most gracious and colorful as has many festivals to celebrate. This religion teaches the respect to elders. In English you is used for young, same age and elders, Hinduism is great in this case, similarly, blessings from elders to younger is still in effect. This religion teaches to be in peace, respecting animal and living creatures. To me Buddhism, Jainism and Sikhism are branches of tree (Hinduism) as the cultures are almost Hinduism. Have some merits and demerits too.
Aryans being invaders and ruled for many generations enforced their codes and conducts that to follow by each. Their terms were harsh for Shudra (low cast) and women. Though, there were many goddesses yet for normal woman, religion was obscure and curse. Woman freedom was banned and had dependable life in mans supremacy. Widows were burnt alive along with dead body of husband. Let these wives first step into the pyre, tearless without any affliction and well adorned."[Rig Veda X.18.7] [Kane 199-200] On September 4, 1987, Deorala a village in Rajasthan repeated the same old nuisance of religion when before a crowd of several thousand people, mostly men, a young woman dressed in her bridal best clothes was burned alive on her husbands funeral pyre. Had shocked the country and its democracy. Religion did not allow women to remarry or divorce was considered as crime, were not allowed to inherit property or any sale purchase. Brahmin (high cast) regime, had power to manipulate Hindu code and conducts to their advantages, which helped for atrocities on low cast and women. Many reformers in Hindu religion came to front for change, Buddhism and Jainism who protested age-old Vedic vaishvava system of Brahmins. Gurus and disciples observed Bramhacharya (unmarried) for the whole life as women they saw as temptation and obstacle to spiritual life also, living vegetarian and sacrificing all sources of temptation, was part of their spiritual life They could succeed in making change though not much, yet opened the door to reformations, Jainism had greatly discouraged Sati (widow burning). Women during menses period treated as unholy and isolated.
BOOKS:
Women in the Sacred Scriptures of Hinduism
: Contents include: The Vedas, The Brahmanas, The Upanishads, The Laws of Manu, The Puranas, The Mahabharata, The Bhagavad Gita, and The Ramayana.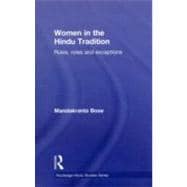 Women in the Hindu Tradition: Rules, Roles and Exceptions
This book accounts for the origin and evolution of the nature and roles of women within the Hindu belief system. It explains how the idea of the goddess has been derived from Hindu philosophical ideas and texts of codes of conduct and how particular models of conduct for mortal women have been created. Hindu religious culture correlates philosophical speculation and social imperatives to situate femininity on a continuum from divine to mortal existence. This creates in the Hindu consciousness multiple - often contradictory - images of women, both as wielders and subjects of authority. The conception and evolution of the major Hindu goddesses, placed against the judgments passed by texts of Hindu sacred law on women "s nature and duties, illuminate the Hindu discourse on gender, the complexity of which is compounded by the distinctive spirituality of female ascetic poets. Drawing on a wide range of Sanskrit texts, the author explains how the idea of the goddess has been derived from Hindu philosophical ideas and also from the social roles of women as reflected in, and prescribed by, texts of codes of conduct. She examines the idea of female divinity which gave rise to models of conduct for mortal women. Instead of a one-way order of ideological derivation, the author argues that there is constant traffic between both ways the notional and the actual feminine. This book brings together for the first time a wide range of material and offers fresh stimulating interpretations of women in the Hindu Tradition.